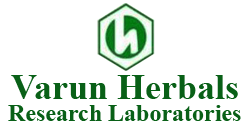 Varun Herbals Research Laboratories is an independent , Non-Profit, self supported R&D; Institute and a Contract Research Organization.
Approved AYUSH Drug Testing Lab by State Licensing Authority.
Non-Profit Contract Research Company under Section 25 of the Indian Company Act 1956.
NPO - NGO.
Research Consultants in Herbal Formulations & Bioactives to Pharmaceutical Industries.
S & T Institute.
Varun Herbals Research Laboratories is engaged in the following areas.
The root word varun is derived from vring - varane - varaeepsaysm which means desired by all. Varun represents the governing deity of water-varuna (aapo hi praanava-water alone is life!) and the infinite supreme lord (who is the most desired from the philosophical sense,too). And the other semantic meaning of Varun is that which values truth, justice and discipline.