You know what's crazy? We're living in this age of "always on," always connected, yet somehow, we're feeling more disconnected than ever- especially from ourselves. Have you ever felt that way? Like you're always rushing but never really getting anywhere? Trust me, you're not alone.
I was chatting with a friend recently about this very thing – all the stress and health woes we're piling up. Sound familiar? It was then that I suggested the healing power of meditation, expecting a nod of agreement. But you know what? Her eyes rolled slightly, and she said, "I'm honestly tired of hearing how meditation and yoga are the answers to everything." Ever felt that way?
Her response caught me off guard, but it made me pause. Because she's not alone in feeling this mix of skepticism and fatigue toward practices often hailed as universal solutions. So, let's go beyond the clichés and really dig deep. We're about to unpack why, in the chaos and complexity of modern life, ancient disciplines like Ayurveda, yoga, and meditation might actually hold the keys to the balance and wellness we're all after.
Intrigued? Stick around; it's going to be a ride worth taking.
Modern Diseases: Delving into the Depths of Today's Lifestyle Ailments
So, let's get real for a second. Life today is kind of a double-edged sword, isn't it? We've got all these gadgets and conveniences but at what cost? Our lifestyles have become so digital, sedentary, and fast-paced that our minds and bodies are screaming for a time-out. Let's face the facts:
So, What Gives?
Listen, modern medicine is incredible for a lot of things, but it's not the be-all and end-all. We need to dig deeper and address the root causes of these lifestyle diseases. That's where ancient wisdom like Ayurveda, yoga, and meditation come into play. Ancient practices, deeply rooted in holistic wellness, offer approaches that address both mind and body, presenting a comprehensive solution to the complex challenges of our times.
Ayurveda: This Isn't Your Grandma's Home Remedy -
Or Maybe It Is
So, What's the Deal with Ayurveda?
First things first - Ayurveda isn't just another health fad. Originating in India over 5,000 years ago, the term itself translates to "life knowledge." This ancient practice offers more than just symptom relief; it gets to the root cause of what's bugging you.
What Makes It Different?
The Research Backs It Up
Studies like one in the Journal of Alternative and Complementary Medicine show significant improvements in conditions like insomnia and stress after Ayurvedic treatments.
The Takeaway?
Ayurveda isn't just ancient wisdom; it's timeless wisdom. And it's not about rejecting modern medicine but harmonizing it with natural practices that have stood the test of time. In a world where quick fixes are the norm, Ayurveda patiently beckons us back to nature's embrace, highlighting the timeless truth that when we live in harmony with the natural world, we flourish in every sense.
To Sum It All Up
Ayurveda is more than just a form of alternative medicine; it's a lifestyle choice that puts you in tune with your body and mind, backed by centuries of practice and modern research. It complements your modern hustle by reconnecting you to nature and yourself.
Yoga: It's Not Just Pretzel Poses and Cute Mats
Ever Thought Yoga Was Just a Fad?
Think again. Yoga's been around for thousands of years, and it's not going anywhere. Sure, it's got some physical benefits - strength, flexibility, you name it. But let's dig a little deeper.
The Full Picture
Final Thoughts on Yoga
So, whether you're dealing with the emotional weight of a never-ending inbox or just looking for a way to touch your toes, yoga's got something for you. It's not just a workout; it's a work-in. As the modern world grapples with myriad challenges, yoga offers an oasis of calm and balance. Its holistic practices, now backed by scientific evidence, underscore its timeless relevance in fostering overall well-being.
Meditation: Navigating the Turbulence of the Modern Mind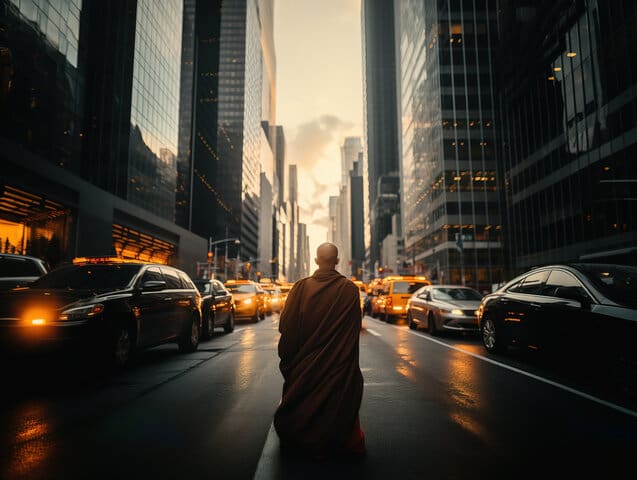 I can sense you're juggling a lot. Your mind is this ever-updating feed of notifications, to-dos, and endless scrolling, right? Well, don't click away just yet. The age-old practice of meditation could be your go-to tool for calming that mental whirlpool.
In Summary
So, in a world where our minds are constantly pushed to their limits, meditation acts like your personal mental health gym. It's not a "fix-all," but it's a practice that offers genuine, scientifically-backed tools to navigate the complexity of our thoughts and emotions. The wisdom it offers is both timeless and remarkably suited for the stressors of our modern life.
Bridging Millennia: Where Ancient Wisdom Meets Modern Science
So you're probably thinking, "This all sounds good, but where's the proof?" Let's talk Science, my friends. Yep, our old pal who helps us make sense of the world.
So, what's the takeaway here?
Ancient practices like Ayurveda, yoga, and meditation aren't just surviving; they're thriving in our modern world because they work. And now, we've got the science to prove it. In essence, the dialogue between ancient traditions and modern science is more than a mere convergence of thought. It's a testament to the enduring wisdom of practices sculpted by time and now validated by empirical research. As the modern world grapples with unique challenges, the remedies may well lie in lessons from the past.
Alright, let's wrap this up. If you've been scrolling through this article thinking, "Man, I need a change," you're not alone. We're all navigating the chaos of 21st-century life, and sometimes it's just too much. But here's the golden nugget: these ancient practices - Ayurveda, yoga, meditation - are not just dusty philosophies tucked away in old books. Nope, they're practical, proven, and incredibly relevant tools for the here and now.
Time-Tested Remedies: These practices have been around for thousands of years for a reason. They've got the wisdom of the ages, an innate understanding of natural rhythms, and a remarkable way of balancing your life.
So next time you're feeling overwhelmed, remember you have a toolkit right at your fingertips, and it's stood the test of time. Now, how's that for peace of mind?